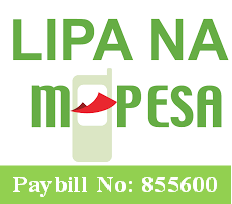 M-PESA PRODUCT CODES
Savings Products
Deposits=D Ekeza Fund=EF
Benevolent Fund=BF Junior Savings=JS
Share Capital=SC
Loan Products
M-Cash=MC Normal=N Okoa Advance=OA Karibu=K Special Loan=SL
Insta=I Boresha=B Insta Plus=IP Emergency=E Quick Pesa=QP
Super=S Car=CA School Fees=SF Collateral=C

Other Loans
Advance Dividends=AD Default Loan=DL Normal Plus = NP
Super Plus = SP Boresha Plus = BP
See instructions below on how to make payments:
Send your savings contributions and/or make loan payments through M-pesa using the above pay bill number.
How to make payment
On your phone menu, go to SIM Toolkit>M-pesa>Lipa na M-pesa>Pay Bill option
Enter business no: 855600
Enter account no: type your membership number followed by dash then product code (e.g. for member number 30 paying M-Cash the format will be: 30-MC)
Enter amount
Enter M-pesa pin
Confirm the payment details and press OK.
You will receive an Mpesa notification alert (on sms/email) that the payment has been sent to Balozi Sacco Ltd and thereafter an instant payment notification from BALOZISACCO when your account is updated.